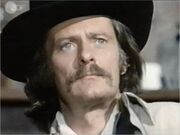 William Berger was an Austrian-born actor who starred in several European productions, most notably being Spaghetti westerns like Keoma (with Franco Nero), They Call Him Cemetary (with Gianni Garko) and Sabata (with Lee Van Cleef), and travel documentaries.
One of the many productions was the Jaws rip-off also known as Experiment #911 Devil Fish.
He passed away at age 65 in October 2 of 1993.