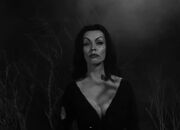 Vampira is a character played by Finnish-born actress Maila Nurmi (1922-2008). Her appearance was inspired by the works of illustrator Charles Addams.
In 1954, Vampira began hosting a late-night TV horror movie program in Los Angeles. She would introduce the film and make appearances before and after commercial breaks. She would often make jokes about the poor quality of the movies, which made the show a sort of spiritual precursor to Mystery Science Theater 3000.
Ms. Nurmi met Edward D. Wood Jr. and agreed to appear in his film Plan 9 from Outer Space. She requested that her character not speak, and that she be credited only as "Vampira". Ms. Nurmi was also credited as "Vampira" for her appearance in the 1959 film The Beat Generation (starring Mamie Van Doren), though she did not appear in costume/character.
In the early 1980s, Nurmi was involved in a planned reboot of the Vampira show, but left the production over creative differences (the account of the exact circumstances of her departure varies among the people involved). The show eventually aired starring Elvira. Ms. Nurmi took legal action, but her claim that her likeness rights were being infringed was not validated.
Later in her life, Ms. Nurmi befriended the comedian and film buff Dana Gould, who has likened their relationship to that of Ed Wood and Bela Lugosi. Mr. Gould has referred to experiences with Ms. Nurmi in his live performances and on his podcast.
An animated version of Vampira appears in the animated opening sequence for RiffTrax.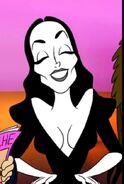 Riffed Movies
Ad blocker interference detected!
Wikia is a free-to-use site that makes money from advertising. We have a modified experience for viewers using ad blockers

Wikia is not accessible if you've made further modifications. Remove the custom ad blocker rule(s) and the page will load as expected.