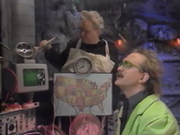 Turkey Day was an annual Thanksgiving Day marathon of MST3K episodes on Comedy Central, first held in 1991 to commemorate the show's third anniversary. Special bumper segments were shown between episodes, and each Turkey Day marathon from 1992 onwards featured the premiere showing of at least one new episode.
In 2013, the tradition was revived on the internet, with six episodes selected by Joel streaming online at mst3kturkeyday.com starting at noon.[1][2] The announcement of the stream garnered significant media attention.[3][4][5]
Another six-film YouTube-streamed Turkey Day was held in 2014.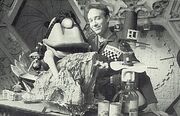 List of Turkey Day marathons
The Sci-Fi Channel also ran a Thanksgiving MST3K marathon in 1997, unofficially known as Turkey Day '97.
In 2014, Shout! Factory released Mystery Science Theater 3000: The Turkey Day Collection, a box set styled as a "Thanksgiving Day Marathon in a Box".
References