Trace Beaulieu
Talk

0
617pages on
this wiki
Trace Beaulieu (born November 6, 1958) is a puppeteer, writer, and actor. He is best known for his roles on Mystery Science Theater 3000.
For the first seven seasons of MST3K, Beaulieu operated and voiced the Crow T. Robot puppet. He also played the role of Dr. Clayton Forrester, who was the head mad scientist, or "mad", for the first seven seasons. Initially Dr. Forrester was assisted by Dr. Laurence Erhardt. His second assistant was TV's Frank. Following the departure of Frank at the end of the sixth season, Mary Jo Pehl joined the cast in his place, playing Forrester's mother Pearl. At the end of the seventh season, Trace Beaulieu left the series. Pehl's Pearl Forrester character replaced him as the head "mad" and Bill Corbett took over the voicing and operation of Crow.
Other Jobs
Trace appeared as a semi-regular in Freaks and Geeks as the school's biology teacher, Mr. Lacovara. He also appeared in The West Wing episode "Bad Moon Rising". For the last few years, Trace has been a writer for America's Funniest Home Videos and in 2002 he was the head writer, producer and host of the pilot episode of the Animal Planet show People Traps. Outside of acting, Trace also wrote the script for the One shot comic book "Here Come The Big People" published by Event Comics.
Appearances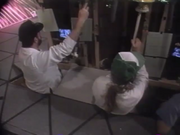 Regular roles
Guest appearances