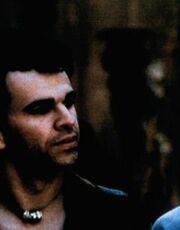 Tony Plana (born April 19, 1952 in Havana, Cuba) is an acclaimed broadway and film actor best known for movies like An Officer and a Gentleman, The Three Amigos, El Norte, Salvador; the videogame Grim Fandango, and TV shows such as "Miami Vice" and "Ugly Betty."
Earlier in this career, he starred in Experiment 403 City Limits.
Ad blocker interference detected!
Wikia is a free-to-use site that makes money from advertising. We have a modified experience for viewers using ad blockers

Wikia is not accessible if you've made further modifications. Remove the custom ad blocker rule(s) and the page will load as expected.