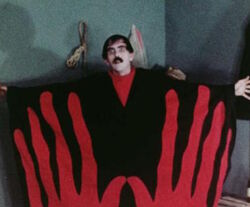 Thomas Ivy "Tom" Neyman (born November 23, 1935) is a former American actor living in Oregon. His father was an airline pilot who died in a crash when Neyman was 18 months old. Neyman's mother had a variety of jobs, including being the first female crane operator at the Galveston docks. Neyman often lived with his cousins and grandparents in Texas, Oklahoma, and Florida.
Neyman attended Texas Christian University. After marrying he moved to El Paso where he worked as the director of the local Boys Club. While in El Paso he became heavily involved with the local theater scene, coming to know people such as John Reynolds and Harold P. Warren.
In 1966 Neyman took part in Warren's production of Manos: The Hands of Fate, playing the role of The Master. His daughter Jackie Neyman Jones played the role of Debbie. Neyman was also responsible for the set design on the film as well, and built the rigging that Reynolds used to portray Torgo as a saytr.
Following the release of Manos, the movie quickly faded back into obscurity. Neyman and his daughter moved to California. Neyman eventually moved to the Pacific Northwest. Neyman achieved new fame when the crew of MST3K screened Manos in early 1993.