Ad blocker interference detected!
Wikia is a free-to-use site that makes money from advertising. We have a modified experience for viewers using ad blockers

Wikia is not accessible if you've made further modifications. Remove the custom ad blocker rule(s) and the page will load as expected.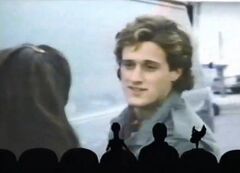 In the late 1970's, Timothy Van Patten made his series television debut in
"The White Shadow."
Somewhat more recently, he has resurfaced as a director for several television shows including
"The Sopranos,"
"Touched by an Angel"
,
"Sex in the City",
and
"Boardwalk Empire".
Although many people think that Timothy is Dick Van Patten's son, the two are in fact
half-brothers
.
Van Patten is most familiar to MSTies for his role as Lee Van Cleef's sidekick in Master Ninja and Master Ninja II, both of which were composed of episodes of the unsuccessful television series "The Master" which were subsequently edited together and syndicated as TV movies.