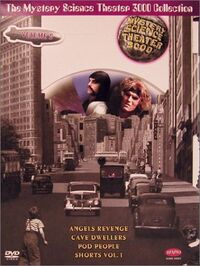 The Mystery Science Theater 3000 Collection, Volume 2 is a DVD box set released by Rhino Entertainment. It was released in February of 2003.
The set includes three episodes (two with Joel, one with Mike) and the first "Shorts" collection.
The outer box features a spinning wheel with pictures from the movies riffed in the set. Inside is a fold-out insert for the four discs and a booklet with additional information.
Shorts, Volume 1 is a direct re-release of the earlier VHS title, so Tom Servo still refers to the collection as a "tape".
Contents
Disc 1
Disc 2
Disc 3
Disc 4
Ad blocker interference detected!
Wikia is a free-to-use site that makes money from advertising. We have a modified experience for viewers using ad blockers

Wikia is not accessible if you've made further modifications. Remove the custom ad blocker rule(s) and the page will load as expected.