The Mystery Science Theater 3000 Amazing Colossal Episode Guide
Talk

0
Share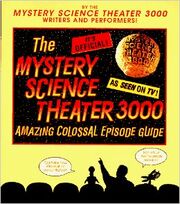 The Mystery Science Theater 3000 Amazing Colossal Episode Guide was a book written by various members of the Best Brains and published in 1996.
As the title suggests, the ACEG consisted mainly of summaries of each episode of MST3K from seasons 1 through 6 (Season 7 was represented by very truncated summaries). Additional chapters contained information on the show's beginnings at KTMA, the first ConventioCon, and the making of Mystery Science Theater 3000: The Movie, as well as explanations of "The 50 Most Obscure References on Mystery Science Theater 3000".
Many of the descriptions have been copied on to various fan-sites, were organized by the likes of Frank Conniff, Kevin Murphy, Mary Jo Pehl and Bill Corbett and have even been copied by users here on this very wikia!
Ad blocker interference detected!
Wikia is a free-to-use site that makes money from advertising. We have a modified experience for viewers using ad blockers

Wikia is not accessible if you've made further modifications. Remove the custom ad blocker rule(s) and the page will load as expected.