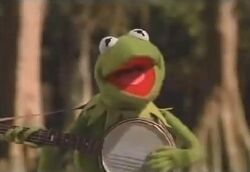 The Muppets are a comedy troupe of puppet characters (created in 1955 by comedian and puppeteer Jim Henson) that have appeared in a variety of self-titled movies and TV shows, as well as the HBO series Fraggle Rock and the PBS program Sesame Street. The Muppets been referenced numerous times by the various SOL crews.
The most commonly mentioned Muppets on MST3K tended to be Ernie and Bert, Elmo, Kermit the Frog, Miss Piggy, Sam the Eagle, The Count, Cookie Monster and Big Bird as well as play-on revisions of the Muppet Babies cartoon name and "Pigs in Space" skit from the original Muppet Show TV series.
Cinematic Titanic, The Film Crew and RiffTrax have all continued the habit of making various references to America's other favorite puppet show franchise. In summer of 2014, RiffTrax did a live riff of 1998's Godzilla. During the riff, Bill Corbett remarks during the first appearance of the Army soldiers that it's now "Time to take Manhattan back from those damn Muppets!" A few scenes later, Bill later comments during a tunnel segment: "Hey Fraggle, quit eating all the Doozers hard work."
Several of the puppeteers who worked on Season 11 of MST3K (including Grant Baciocco and Russ Walko) have worked with the Jim Henson Company operating Muppet characters.
Episodes
For a list of episodes that contain references to Jim Henson's creations, see List of Muppet References on MST3K. RiffTrax's official website also mentions Charles Durning's role as the antagonist of the Muppet character Kermit the Frog in The Muppet Movie in its synopsis of When a Stranger Calls Back. [1]
External links
Ad blocker interference detected!
Wikia is a free-to-use site that makes money from advertising. We have a modified experience for viewers using ad blockers

Wikia is not accessible if you've made further modifications. Remove the custom ad blocker rule(s) and the page will load as expected.