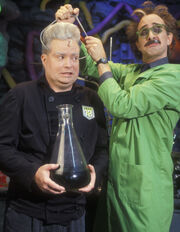 The Mads is the term the Satellite of Love crew members use to collectively describe their mad scientist captors. The Mads can be roughly divided into six configurations (with a few extra additions due to circumstances) based around the central mads present at the time:
Principals
Mystery Science Theater 3000: The Movie
Max (A.K.A. TV's Son of TV's Frank)
Secondary
Mirror Universe
Ad blocker interference detected!
Wikia is a free-to-use site that makes money from advertising. We have a modified experience for viewers using ad blockers

Wikia is not accessible if you've made further modifications. Remove the custom ad blocker rule(s) and the page will load as expected.