"
"Why does he have to kill them to prove his point? Can't he just show them a pie chart or something?"
"
 
— Servo
The Short
Synopsis
After escaping Retik's clutches, Cody and his colleagues devise a plan to enter the villain's headquarters. Once there, they inject nitrous oxide into the ventilating system, knock out the bad guys, and steal the atomic ray gun. The plan works fine, but as they make their getaway with the gun, Cody and his sidekick Ted are pursued by Moon Men in a souped-up moon tank and trapped in a cave. Aiming a steady atomic ray at the cave entrance, the Moon Men melt the rock walls and cause molten lava to rush towards Cody and Ted.
The Movie
Synopsis
Former child actor Johnny Downs earns top billing in this low-budget horror film, which also stars George Zucco as Dr. Lorenzo Cameron, a mad doctor who has discovered a way to turn his helper, Pietro (Strange), into a wolf man.
The lycanthropic experiments succeed, and although Dr. Cameron spouts plans of turning his discovery into a weapon in defense of the civilized world, he instead unleashes his creation on those fellow scientists who had engineered his ouster from academia.
Before long, the doctor is unable to control the wolf man, who threatens to kill everything in his path. Only newspaper reporter Tom Gregory (Downs) and Lenora (Nagel), Cameron's innocent daughter, may be able to stop the monster. A perennial cult favorite.[1]
Information
The Mad Monster was released on the heels of The Wolf Man (1941) but cost a fraction of Universal's elaborate lycanthropic exercise.[2]
Glenn Strange, who plays the unfortunate dimwit that gets turned into a werewolf, would later take up the role of Frankenstein's Monster in several of Universal's features.
Originally released on May 8, 1942, The Mad Monster is tied with The Corpse Vanishes - which was released on the same day - as the oldest feature film used on MST3K (though the short Catching Trouble from 1936 used in Experiment #315 Teenage Cave Man is the oldest material ever used on the show).
The Episode
Host Segments
Invention Exchange: Joel's "Hell in a Handbag" - a flame-throwing purse. Dr. F and Dr. E show off their thunder lizard.
Segment Two: Tom flirts with Joel's blender.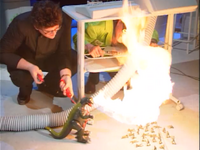 Segment Three: Joel answers the Bots' questions about the wolf man.
Segment Four: Joel switches Crow's and Servo's heads to near-disastrous consequences.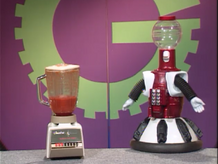 Ending Segment: Joel tries to offer RAM Chips to the Bots to say good things about the movie; when they don't, he threatens to give them to Gypsy, claiming that she was created as a peripheral character so that they would have someone else outside of the movies. As the discussion devolves into existentialism, the Mads are angry at their ignorance that a mad scientist died at the end of the movie.
Information
Host Segment Two is the source of a notorious outtake in which Tom flubs a line and then announces that he is "gonna go f*ck myself..." It is notable since Josh Weinstein continues to operate Tom's mouth as if still in character even after the take has been blown.
No opening segment.
Both inventions were previously shown on KTMA ("Hell in Handbag" was used in K16 - City on Fire).
Joel and the Bots actually leave before the movie ends and we get about 20 seconds of empty theater.
Servo flirting with a blender is a remake of a sketch from Humanoid Woman.
Obscure References
Joel: "I got it from Dennis Hopper I think"
Joel is referring to a scene in the movie Blue Velvet where Frank Booth (Dennis Hopper) gets high off of a small gas tank. In the movie it's officially amyl nitrate, not nitrous oxide.
Buddy breathing is a technique where two divers can use one scuba tank, usually in an emergency.
Snack Canyon was a theater ad about concession stand food from the 70's.
Tom "I want you to meet my brother, Fred Gwynne."
Fred Gwynne was a tall actor famous for playing Herman on the sitcom The Munsters.
Tom "Did I just see a chuck-wagon roll through there?"
Purina Chuck Wagon was a popular brand of dog food. It had commercials featuring dogs chasing a tiny covered wagon through a suburban home or kitchen.
Video releases
Commercially released on DVD by Shout Factory in February 2009 as part of Volume XIV, a 4-disc set along with Manhunt in Space, Soultaker, and Final Justice. This set has been out of print since 2016.

The DVD includes the original theatrical trailer for the movie as a special feature.

Digitally available through Shoutfactorytv.com, Youtube, Rifftrax, and Vudu.