The Incredible Melting Man
Talk

0
617pages on
this wiki
The Movie
Edit
Synopsis
Edit
"Steve", an astronaut, returns from a trip to Saturn in a disfigured state, "just a little bit radioactive" and in a bad mood.
Upon returning to Earth, he is put up in the lovely and technologically advanced NASA hospital (which occupies stalls 28 through 48 at a Fresno California ministorage). After awakening, he flees with a Steadycam, killing a nurse (and he hasn't even gotten the bill yet!) and begins wandering around the area, dispatching his victims, his flesh rapidly deteriorating,  
An abrupt, "unearthly" general and a put-upon, whisper-thin, cracker-obsessed physician try to hunt him down while maintaining government secrecy.  Because the movie is mostly about the wonders of spirit gum and latex, the tiny amount of plot-substitute parceled out at the beginning is fraught with errors, gaffes, and irresponsible use of stock footage. Our protagonist is ostensibly on a mission to Saturn, which is something around ten times the distance from the sun as the earth. Despite this, we are treated to images of a gigantic sun filling the viewport. You'll also note the conversation with 'Houston'--it's as though the real life lag of anywhere from 70 to 90 minutes doesn't even exist! You'll also enjoy seeing archival footage of the Apollo missions masquerading as exploration of the pitted and cratered surface of Saturn---wait--is that right?
But don't worry, once the premise is established, we can get on with the goo. Much later, a tacked on bit of exposition provides the basis for the rampage, but frankly, it's so stupid and implausible that it really doesn't bear repeating.
And that's about it. Also a general eats a turkey leg and old people steal lemons. Adjka!
Information
Edit
Myron Healey, who played General Michael Perry, was the handsome and heroic cop Mark Houston in The Unearthly.
The Episode
Edit
Host Segments
Edit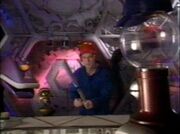 Prologue: Mike and the bots play a little baseball. Crow, the umpire, says, "Hiyreah!" repeatedly, and Mike keeps getting hit by balls thrown by Servo.
Segment One: Mike's jaw was injured in the fight with Servo. Crow's Earth vs. Soup screenplay is being made into a movie, with Dr. F and Pearl in charge of the money. Crow says he will stand by his script, but he folds like a card table at Pearl's demands.
Segment Two: Dr. F and Pearl take a very expensive and very pointless shuttle ride to the SOL for a script conference. Mike tears the centers out of bagels at Crow's command; Crow leaves for Pellegrinos and the conference goes on without him. Lost of confusion abounds with the revisions.
Segment Three: Crow directs his movie, which features Mike as Kevin Bacon and Gypsy as his love interest. Judy (actually Servo) helps as the assistant director. Crow gets two takes of the only scene before Movie Sign because he is so carried away with his new director's scarf.
Segment Four: Dr. F leads a focus group for Earth vs. Soup: The Movie. None of them liked the film; they didn't like the plot, it was too short, and it should have been potato soup.
Segment Five: Upon learning the fate of his movie, Crow flips out: "I come to you with a movie, you supposedly get me $30 million to make it, you take 29.5 million for yourself, I get a lousy $800, I don't get any credit, and my movie's released as a trailer!?!"
Stinger: Dr. Ted Nelson's weird old mother-in-law says, "Let's get the hell out of here!"
Other Notes
Edit
Guest Stars
Miscellanea
Obscure References
Edit
"Wanna talk to Maude Frickert?"
A reference to comedian Jonathan Winters (who General Perry bears more than a passing resemblance to), in particular, his character "Maude Frickert", an old woman in a "Whistler's Mother" black dress and gray wig who was possessed of a wicked tongue.
"Edie Sedgwick, NOOOO!!!"
Edie Sedgwick, who appeared in several films directed by Andy Warhol, was severely burned in 1966 after falling asleep with a lit cigarette.
"The Russians! Hey, Giorgy!"
A reference to an SCTV sketch about a Russian sitcom called "Hey, Giorgy!".
"I just realized- I'm LeRoy Neiman!"
A reference to commercially successful artist LeRoy Neiman. In MST's The Screaming Skull, the Brains suggested that incineration was the most appropriate fate for his creative output.
The fisherman looks like Bill Gates
"NASA's a sucker for any Very Large Array salesman!"
A reference to the Very Large Array, an installation of radio astronomy dishes located in New Mexico.
"To-morrow, and to-morrow, and to-morrow / Creeps in this petty pace from day to day / To the last syllable of recorded time..."
A line from scene 5 of Hamlet.
"I'm gonna squeeze one of [the oranges] and let the juice run down my body!"
A reference to the 1980 film Atlantic City, which starred Susan Sarandon, and featured a scene where she squeezed the juice from lemons over her naked body.
"Don't talk about the baby, Martha."
​A recurring line from Who's Afraid of Virginia Woolf?. Except they say "the boy", not "the baby" in the film.