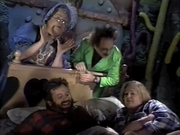 In the host segments for Experiment 623 The Amazing Transparent Man, Deep 13 was transformed into Auntie McFrank's Tangleberry Inn, a colorful bed and breakfast station. After being served a meal of cold lo mein, Mike and the Bots provide some "local color" for the guests by presenting a llama to them. Ted and Barb were the guests present there.
Ted was portrayed by Kevin Murphy.
Ad blocker interference detected!
Wikia is a free-to-use site that makes money from advertising. We have a modified experience for viewers using ad blockers

Wikia is not accessible if you've made further modifications. Remove the custom ad blocker rule(s) and the page will load as expected.