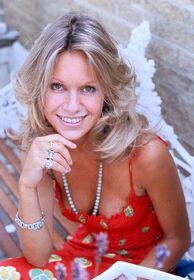 Suzanna Leigh (born Suzanna Smyth; 26 July 1945) is an English actress known for her film and television roles in the 1960s and 1970s.
Career
Leigh's film roles include the love interest of Elvis Presley in Paradise, Hawaiian Style (1966), a stewardess in the comedy Boeing Boeing (1965), and as the frail heroine in a couple of Hammer films - The Lost Continent (1968) and Lust for a Vampire (1971).[5] She starred in the cult British horror films The Deadly Bees (1966) and The Fiend (1972). In 1974 she starred as Amber in Son of Dracula.[5] In 2015, she was a featured player in the film Grace of the Father.[5]
Filmography
1956: The Silken Affair (uncredited) – Minor Role
1958: Tom Thumb (uncredited) – Extra in 'Dancing Shoes' sequence
1960: Oscar Wilde (uncredited) – Extra
1961: Bomb in the High Street – Jackie
1965: The Pleasure Girls – Dee
1965: Boeing Boeing – Vicky Hawkins/British United
1966: Paradise, Hawaiian Style – Judy Hudson (Friday)
1966: The Deadly Bees – Vicki Robbins
1967: Deadlier Than the Male – Grace
1968: The Lost Continent – Unity Webster
1968: Subterfuge – Donetta
1971: Lust for a Vampire – Janet Playfair
1972: The Fiend – Paddy Lynch
1974: Son of Dracula – Amber
MST3K Appearances
Ad blocker interference detected!
Wikia is a free-to-use site that makes money from advertising. We have a modified experience for viewers using ad blockers

Wikia is not accessible if you've made further modifications. Remove the custom ad blocker rule(s) and the page will load as expected.