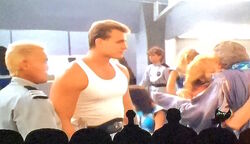 Sugar is a term used by the inhabitants of The Satellite of Love when someone - usually female and usually attractive - exclusively shows affection for one person in the presence of others. The inhabitants of the SOL use this to indicate that they think the person giving the affection should share it with the others.
Examples
Ad blocker interference detected!
Wikia is a free-to-use site that makes money from advertising. We have a modified experience for viewers using ad blockers

Wikia is not accessible if you've made further modifications. Remove the custom ad blocker rule(s) and the page will load as expected.