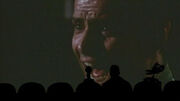 Stewart Moss (born November 27, 1937 in Chicago, Illinois) is an American actor.
He made eight guest appearances on "Hogan's Heroes", starring Bob Crane, from 1965 to 1971. He also made two guest appearances on "Perry Mason" and on "Star Trek". He has appeared in such TV shows as "Murder, She Wrote", "Matlock", "Riptide", "Cagney and Lacey", "Magnum, P.I." (with Tom Selleck), "Barnaby Jones", "Baa Baa Black Sheep", "The Rockford Files", "Cannon", "Kojak", "The Silent Force" and "Bonanza". He also wrote an episode of Trapper John, M.D. called "Old Man Liver".
Stewart Moss is married to actress Marianne McAndrew, with whom he co-starred in the film It Lives by Night (Experiment #1010).
Ad blocker interference detected!
Wikia is a free-to-use site that makes money from advertising. We have a modified experience for viewers using ad blockers

Wikia is not accessible if you've made further modifications. Remove the custom ad blocker rule(s) and the page will load as expected.