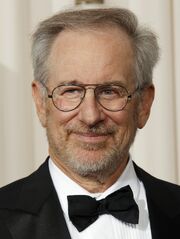 Steven Allan Spielberg (born December 18, 1946 in Cincinnati, Ohio, USA) is an Academy-award winning American director, producer and screenwriter. Spielberg is considered as one of the founding pioneers of the New Hollywood era, as well as being viewed as one of the most popular and influential directors and producers in film history. He is often mentioned among the biggest audience favorite filmmaker along with other colleagues such as Francis Ford Coppola, Woody Allen, Clint Eastwood, Martin Scorsese and George Lucas.
In a career spanning more than four decades, Spielberg's films have covered many themes and genres. Spielberg's early science-fiction, drama, mystery and adventure films such as were seen as archetypes of modern Hollywood blockbuster filmmaking. In later years, his films began addressing humanistic issues such as the Holocaust (in Schindler's List), the transatlantic slave trade (in Amistad), war (in Empire of the Sun, Saving Private Ryan and War Horse), and terrorism (in Munich). He is one of the co-founders of DreamWorks Studios and also produces material for film and TV through his long-established Amblin Entertainment production company.
The unadjusted gross of all Spielberg-directed films exceeds $8.5 billion worldwide. His personal net worth is estimated to be more than $3 billion. In addition to his high earnings and well-earned success, Spielberg also often works with some of the best in their respective part of the industry including acclaimed film composer John Williams and cinematographer Janusz Kaminski.

The MST3k crew has also claimed that Spielberg himself is a fan of the show and like many noted filmmakers, he and his various films have been referenced. When the RiffTrax brand sought to take on various beloved or hated blockbusters, they made no exception to some of Steven's hits and occasional yet inevitable misses.
Riffed Movies
Gallery
Ad blocker interference detected!
Wikia is a free-to-use site that makes money from advertising. We have a modified experience for viewers using ad blockers

Wikia is not accessible if you've made further modifications. Remove the custom ad blocker rule(s) and the page will load as expected.