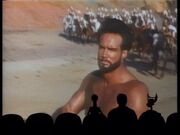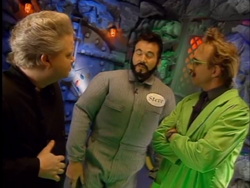 Stephen L. Reeves (born January 21, 1926 in Glasgow, MT; passed away May 1, 2000 in Escondido, CA) was an American bodybuilder and actor. At the peak of his career, he was the highest-paid actor in Europe.
Interestingly enough, Steve's first movie was Ed Wood's Jailbait. But he is best known for his Italian sword-and-sandal epics, most particularly Hercules. Later on in his career, Steve turned down $100,000 to star as James Bond in the first Bond flick, Dr. No, which was released in 1962 and made Sean Connery an instant international star. Nothing against Connery as Bond, but Steve would have been a devastatingly handsome 007.
Steve spent the later years of his life promoting drug-free bodybuilding. He died in 2000, at the age of 74. He was seen in Experiment 408 Hercules Unchained. He later reappeared on The Film Crew's final episode The Giant of Marathon.
See Wikipedia for a more extensive bio.
Ad blocker interference detected!
Wikia is a free-to-use site that makes money from advertising. We have a modified experience for viewers using ad blockers

Wikia is not accessible if you've made further modifications. Remove the custom ad blocker rule(s) and the page will load as expected.