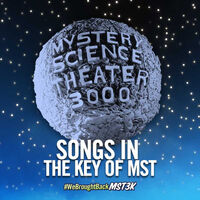 Songs in the Key of MST is compilation album of songs mostly from the original network run of Mystery Science Theater 3000. It was sent digitally to backers of the Kickstarter campaign. It has never been made available for individual sale.
Most songs from the collection were already featured on Clowns in the Sky or Clowns in the Sky II. The final two tracks date from the Kickstarter campaign and were the first new songs released in relation to the show since Clowns II.
Track listing
Ad blocker interference detected!
Wikia is a free-to-use site that makes money from advertising. We have a modified experience for viewers using ad blockers

Wikia is not accessible if you've made further modifications. Remove the custom ad blocker rule(s) and the page will load as expected.