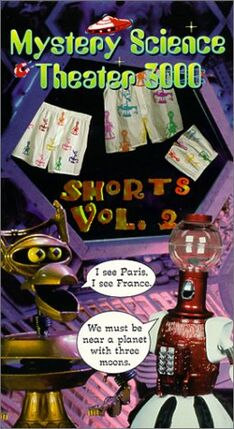 Shorts, Volume 2 is a compilation release from Rhino Entertainment featuring six popular shorts from Mystery Science Theater 3000. It was originally released on VHS in October 1999; it was later re-released on DVD as part of the Volume 3 set.
The seven shorts featured are:
"Keeping Clean and Neat" and "What to Do on a Date" were later released again with their original episodes in Volumes 9 and 10, respectively. "What to Do..." was then re-released in the 10.2 set.
Ad blocker interference detected!
Wikia is a free-to-use site that makes money from advertising. We have a modified experience for viewers using ad blockers

Wikia is not accessible if you've made further modifications. Remove the custom ad blocker rule(s) and the page will load as expected.