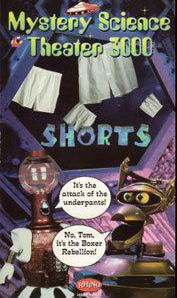 Shorts, Volume 1 is a compilation release from Rhino Entertainment featuring seven popular shorts from Mystery Science Theater 3000. It was originally released on VHS in July 1998; it was later re-released on DVD as part of the Volume 2 set.
The seven shorts featured are:
Two shorts were also released on single DVDs with their respective episodes; "Cheating" (with The Wild Wild World of Batwoman) and "Why Study Industrial Arts?" (with The Skydivers). "Junior Rodeo Daredevils" was seen again with its original episode in Volume 7.
Ad blocker interference detected!
Wikia is a free-to-use site that makes money from advertising. We have a modified experience for viewers using ad blockers

Wikia is not accessible if you've made further modifications. Remove the custom ad blocker rule(s) and the page will load as expected.