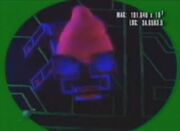 Shelli
is one of
the Nanites
that helps control the SOL and is also a fully qualified hair dresser. Those who insult her have been known to get more than what they ask of her.
Shelli is voiced by Mary Jo Pehl.
Ad blocker interference detected!
Wikia is a free-to-use site that makes money from advertising. We have a modified experience for viewers using ad blockers

Wikia is not accessible if you've made further modifications. Remove the custom ad blocker rule(s) and the page will load as expected.