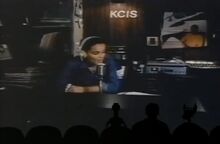 Shari Belafonte (born 1954) is an American actress. The daughter of well-known singer Harry Belafonte, Shari distinguished herself in several film and TV roles.
MST-ied Movies
Notes
At the time she appeared in Being from Another Planet (A.K.A. Time Walker), Ms. Belafonte was married to Robert Harper. She was credited as "Shari Belafonte-Harper". They have since divorced, and she has re-married. She continues to be known professionally as "Shari Belafonte".
Ms. Belafonte posed for Playboy Magazine in the year 2000, but was apparently not the Playmate of the Month.
Ad blocker interference detected!
Wikia is a free-to-use site that makes money from advertising. We have a modified experience for viewers using ad blockers

Wikia is not accessible if you've made further modifications. Remove the custom ad blocker rule(s) and the page will load as expected.