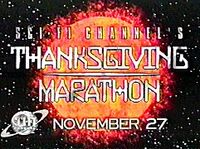 Sci-Fi Channel's Thanksgiving Marathon (informally known as Turkey Day '97) is the only Thanksgiving marathon of Mystery Science Theater 3000 episodes run on the Sci-Fi Channel. It aired from 7:30 AM, November 27 to 4:00 AM on November 28, 1997.
In addition to not being officially named "Turkey Day" in the vein of the Comedy Central marathons, the marathon also lacked special promos and bumpers. Seven episodes, plus The Making of Mystery Science Theater 3000 were shown, along with a break for two Star Wars films.
Schedule
References
Ad blocker interference detected!
Wikia is a free-to-use site that makes money from advertising. We have a modified experience for viewers using ad blockers

Wikia is not accessible if you've made further modifications. Remove the custom ad blocker rule(s) and the page will load as expected.