"
Never trust a man with two first names. Especially if the first one's a woman's.
"
 
— Joel Robinson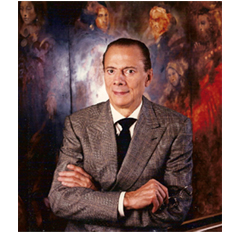 MSTied Movies
Humanoid Woman
The Legend of Dinosaurs
Gamera
Gamera vs Barugon
Time of the Apes
Gamera vs Gaos
Fugitive Alien
Gamera vs Guiron
Mighty Jack
Gamera vs Zigra
Star Force: Fugitive Alien II

Biography
Sandy Frank is an American television producer and film distributor. He is best known for importing the many Gamera films to the United States. He began working for Paramount Pictures during the 1950s but struck out on his own in 1964 to start a program syndication company, Sandy Frank Program Sales, Inc. (renamed Sandy Frank Entertainment, Inc. in 1974). He is best known for importing and redubbing 1960s and 1970s Japanese films and television series, such as Gamera and Battle of the Planets, for distribution in the American market. As well as Japanese imports, Sandy Frank is known in game-show circles for distributing the 1984 version of Name That Tune and Face The Music from 1980-81.
Five of the Gamera films, as well as Fugitive Alien, Star Force: Fugitive Alien II, Time of the Apes, Mighty Jack, and Humanoid Woman, were featured on Mystery Science Theater 3000. Frank eventually became the target of mockery on the show. Notably, he was mentioned during the Fugitive Alien Medley song in Star Force: Fugitive Alien II. A rumor says he responded by refusing to renew distribution rights for any episode featuring one of his films. Regarding this, MST3K writer Kevin Murphy recently explained that Frank only pulled distribution rights simply because Best Brains and Comedy Central didn't have enough money to re-secure the rights; as of June 2012, all of Frank's movies shown on season 3 have a commercially available release.
Sandy Frank lives in Manhattan.
Gallery of on-screen credits
Sources
Ad blocker interference detected!
Wikia is a free-to-use site that makes money from advertising. We have a modified experience for viewers using ad blockers

Wikia is not accessible if you've made further modifications. Remove the custom ad blocker rule(s) and the page will load as expected.