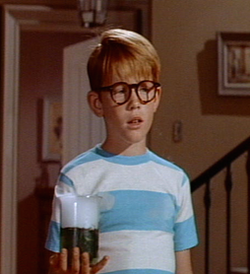 Ronald William "Ron" Howard (born March 1, 1954) is an American actor, director, and producer. Howard appeared in the Bert I. Gordon film Village of the Giants as a young boy called Genius, who had invented a substance that caused all animal life to grow to gigantic proportions. This movie was featured in an episode of Mystery Science Theater 3000.
Ron Howard is the son of Rance Howard and Jean Speegle Howard and the older brother of actor Clint Howard. Howard's parents and brother have often appeared on works that he has acted in or directed.
Ron Howard is married to Cheryl Howard and they have four children. His daughter Bryce Dallas Howard appeared in Spider-Man 3 (which later became a Rifftrax presentation).
Howard's most famous early role was playing the role of Opie Taylor on The Andy Griffith Show and its successor show Mayberry RFD. In the 1970s and 80s Howard would find new fame playing the role of Richie Cunningham on Happy Days. Howard had a starring role on The Shootist - which was John Wayne's final film before his death in 1979.
In more recent years Howard became well-known as a respected movie director. Some of the movies he directed were Apollo 13, The Da Vinci Code, Frost/Nixon, and A Beautiful Mind (for which he won an Academy Award). He also co-produced and narrated the TV series Arrested Development.
See Also