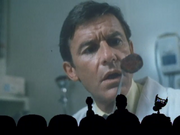 Roddy McDowall (1928 – 1998) was a British actor and photographer best known for the Planet of the Apes film series (upon which the Japanese Experiment #306 Time of the Apes was a rip-off of), How Green Was My Valley, My Friend Flicka and Lassie Come Home.
Following his death, McDowall's home in California was purchased by comedian Dana Gould.
RIffed Movies
Ad blocker interference detected!
Wikia is a free-to-use site that makes money from advertising. We have a modified experience for viewers using ad blockers

Wikia is not accessible if you've made further modifications. Remove the custom ad blocker rule(s) and the page will load as expected.