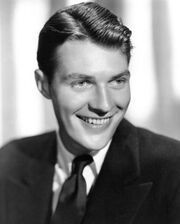 A former professional prizefighter, Robert Kent (born in 1908 as "Douglas Blackley Jr." and sometimes credited as either "Douglas Blackley" or "Douglas Bleckley") entered films after gaining experience on the legitimate stage. His career consisted mostly of playing leads in B pictures. His biggest picture was probably The Country Girl (1954), in which he was billed eighth, but he specialized in westerns, action/adventure films, and serials, appearing in such pictures as 1938's Gang Bullets, 1939's The Phantom Creeps, which was shown as one of the shorts in Experiment 206 Ring of Terror, and 1941's Twilight on the Trail. He passed away in 1955.
External links
Ad blocker interference detected!
Wikia is a free-to-use site that makes money from advertising. We have a modified experience for viewers using ad blockers

Wikia is not accessible if you've made further modifications. Remove the custom ad blocker rule(s) and the page will load as expected.