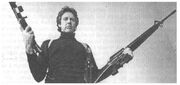 Robert Ginty (born November 14, 1948 in Brooklyn, New York City, NY; passed away September 21, 2009, Los Angeles, CA) was an American actor whose credits include award-winning dramas like Coming Home and B-Action flicks (including ones by Cannon Films) such as The Exterminator series. He also had recurring roles on the popular TV series "Simon & Simon" and "Falcon Crest".
He was featured as "the Paper Chase guy" in Experiment #501 Warrior of the Lost World. He was also mentioned by that character nickname in Experiment #706 Laserblast. The name was derived from Ginty's supporting role as Thomas Craig Anderson in the television series "The Paper Chase" (based on the Academy Award-winning film).
Gallery
Ad blocker interference detected!
Wikia is a free-to-use site that makes money from advertising. We have a modified experience for viewers using ad blockers

Wikia is not accessible if you've made further modifications. Remove the custom ad blocker rule(s) and the page will load as expected.