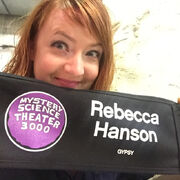 Rebecca Hanson is an American comedian, writer, actor and singer. She portrays Gypsy and Synthia - henchman to Kinga Forrester and clone of Pearl Forrester - in Season 11 of Mystery Science Theater 3000. She also writes for the show. Her involvement was announced in February of 2017.
Among her favorite Experiments from the Classic series, Ms. Hanson lists Mitchell, I Accuse My Parents, Angels Revenge, Kitten with a Whip, and Revenge of the Creature. She has also expressed a fondness for the short The Home Economics Story from The Saga of the Viking Women and Their Voyage to the Waters of the Great Sea Serpent (which was made at Iowa State University, near her hometown).
Trivia
Hanson is of Norwegian descent.[1]
Links
References