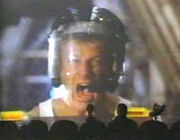 Reb Brown (star of Space Mutiny) is an actor and marital artist who starred in movie B-movie films films such as Cage with Lou Ferrigno, Yor, Hunter of the Future and Strike Commando.
He also starred as Captain America in 2 made-for-TV movies in the late 1970s, (which was referred to in the Rifftrax for Viva Knievel!).
In 2014, the RiffTrax crew roasted the Albert Pyun fantasy film The Sword and the Sorcerer, which co-starred Brown. Brown was also mentioned in the Rifftrax of Breaker! Breaker!, in which arm wrestling was referred to as "the Reb Brown of sports".
Since 1979, Brown has been married to actress Cisse Cameron, his co-star in Space Mutiny, who is 6 years his junior.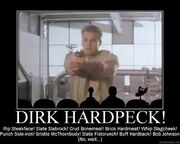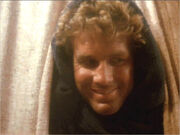 See Also
Ad blocker interference detected!
Wikia is a free-to-use site that makes money from advertising. We have a modified experience for viewers using ad blockers

Wikia is not accessible if you've made further modifications. Remove the custom ad blocker rule(s) and the page will load as expected.