"Photon torpedoes - Fire!" is a command issued by Mike as a clear result of watching far too much of Star Trek as the SOL has no means to deliver that result. 
Tom mentions that the only one they actually did have was set off by Crow in Mike's locker room as a simple prank.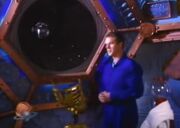 Ad blocker interference detected!
Wikia is a free-to-use site that makes money from advertising. We have a modified experience for viewers using ad blockers

Wikia is not accessible if you've made further modifications. Remove the custom ad blocker rule(s) and the page will load as expected.