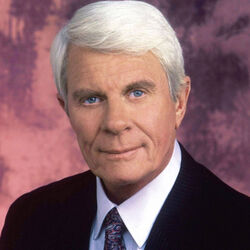 Peter Aurness (March 18 1926 - March 14, 2010), better known as Peter Graves, was an American actor. He is best known for his starring role in the television series Mission: Impossible from 1967 to 1973 (and again from 1988 to 1990). He won a Golden Globe award in 1971 for his role as Jim Phelps in the series. Peter appeared in five films mocked by Mystery Science Theater 3000 - albeit once as a voiceover - and was referenced in many more.
Like MST3K, Peter Graves was born in Minnesota. He has made more than 70 screen and TV films and series, and is especially well-known for the following roles:
Price, one of the POW's held in Stalag 17.
Captain Clarence Oveur in Airplane! and its sequel.
And, in more recent years, Colonel John Camden on the WB's 7th Heaven.
During the 1990s, he hosted the documentary series Biography on A&E. This is what the majority of Joel, Mike, and the Bots' Peter Graves-related riffs have referenced. Graves has been married to Joan Endress since 1950. They have three daughters, Kelly, Claudia and Amanda. Peter can most recently be seen starring in a GEICO commercial.
Graves was found dead in his home on March 14, 2010. He was just a few weeks shy of his 84th birthday at the time of his death.
MSTography
SST- Death Flight
This episode is from the KTMA era. Graves plays Paul Whitley, a passenger on a new supersonic transport plane, on which a deadly flu has been set loose, stranding the crew and passengers in the air. It was the thirteenth full episode of the KTMA season.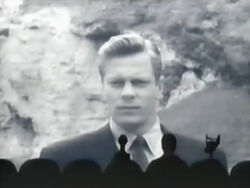 It Conquered the World
In this Roger Corman film, seen as Experiment 311, Graves plays Dr. Paul Nelson. His friend, Dr. Tom Anderson (Lee Van Cleef), unwittingly assists an alien in coming to earth and starting to take over the planet, and Dr. Nelson has to convince him that the creature brings war, not peace. After the film's climax, Graves' character gives an infamous, and rather lengthy, speech about the nature of humanity. At the end of the episode, this speech is played four times, for humorous effect. Also, the second-to-last host segment concerns the subject of celebrity siblings, inspired by Peter Graves and his brother James Arness.
This is Dr. Nelson's speech, in its entirety:
"He learned, almost too late, that man is a feeling creature and, because of it, the greatest in the universe. He learned, too late for himself, that men have to make their own way, to make their own mistakes. There can't be any gift of perfection from outside ourselves. And, when men seek such perfection, they find there's only death, fire, loss, disillusionment, the end of everything that's gone forward. Men have always sought an end to toil and misery. It can't be given; it has to be achieved. There is hope, but it has to come from inside, from man himself."
Attack of the the Eye Creatures
While not appearing on-screen, Peter's voice is the "Narrator of USAF Briefing Film."
Beginning of the End
Once again, in the seventeenth episode of season five, Graves stars as another doctor, named Ed Wainwright. He accidentally causes a number of grasshoppers to grow to an enormous size, and he now must get them under control before they destroy Chicago. The middle host segment features Crow's slightly repetitive screenplay, "Peter Graves at the University of Minnesota."
Parts: The Clonus Horror
In the film, also known as just The Clonus Horror, Graves is in a slightly different role, as corrupt presidential candidate Jeffrey Knight. Mr. Knight is part of a conspiracy to keep a government cloning and organ harvesting project secret. There are no Peter Graves-related host segments in this episode, but Biography riffs abound and the end credits feature a voiceover from Mike promoting a supposedly upcoming episode of Biography about Peter. This episode aired during season eight.
Killers from Space
Graves plays Dr. Doug Paul Martin in this film, which was featured on the short-lived The Film Crew  movie-riffing project. A heavily-edited and colorized version was also used on Attack of the Killer B Movies.
Filmography
Winning Your Wings (1942) (short subject)
Up Front (1951)
Fort Defiance (1951)
The Congregation (1952)
Red Planet Mars (1952)
Stalag 17 (1953)
War Paint (1953)
East of Sumatra (1953)
Beneath the 12-Mile Reef (1953)
Killers from Space (1954)
The Yellow Tomahawk (1954)
The Raid (1954)
Black Tuesday (1954)
Fort Yuma (1955)
The Long Gray Line (1955)
Robbers' Roost (1955)
Wichita (1955)
The Naked Street (1955)
The Night of the Hunter (1955)
The Court-Martial of Billy Mitchell (1955)
It Conquered the World (1956)
Hold Back the Night (1956)
Canyon River (1956)
Beginning of the End (1957)
Bayou (1957)
Death in Small Doses (1957)
Wolf Larsen (1958)
A Stranger in My Arms (1959)
A Rage to Live (1965)
Texas Across the River (1966)
The Ballad of Josie (1967)
Mission: Impossible vs. the Mob (1968) (compilation of episodes released to European theaters)
Sergeant Ryker (1968)
The Five Man Army (1969)
Sidecar Racers (1975)
The Mysterious Monsters (1976) (documentary) (narrator)
SST- Death Flight (1977) (TV)
High Seas Hijack (1978) (in English version)
Parts: The Clonus Horror (1979)
Survival Run (1980)
Airplane! (1980)
The Guns and the Fury (1981)
Savannah Smiles (1982)
Airplane II: The Sequel (1982)
The Winds of War (1983)
Number One with a Bullet (1987)
Addams Family Values (1993)
House on Haunted Hill (1999)
Men in Black II (2002)
External links
Ad blocker interference detected!
Wikia is a free-to-use site that makes money from advertising. We have a modified experience for viewers using ad blockers

Wikia is not accessible if you've made further modifications. Remove the custom ad blocker rule(s) and the page will load as expected.