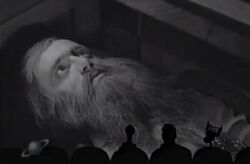 Paul Blaisdell (21 July 1927- 10 July 1983) was an American sketch artist, fine arts painter, sculptor, movie monster maker and actor. He designed and/or built creatures for movies like The Beast with a Million Eyes, Not of This Earth, Invasion of the Saucer Men, Earth vs. the Spider, The Day the World Ended, It Conquered the World, From Hell It Came, and The She-Creature.
In addition to designing the creatures, he often played them as well. As an actor, Paul Blaisdell appears in three MST3K experiments:
Ad blocker interference detected!
Wikia is a free-to-use site that makes money from advertising. We have a modified experience for viewers using ad blockers

Wikia is not accessible if you've made further modifications. Remove the custom ad blocker rule(s) and the page will load as expected.