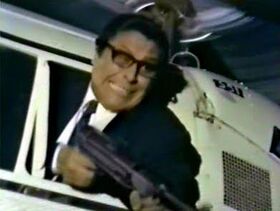 Nello Pazzafini
(May 15, 1934 - November 27, 1997) was an ex-bodyguard-turned-Italian cinema actor who appeared in several Spaghetti westerns and Sword-and-Sandal epics, often in the part as a tough guy or villain.
He is known to MST-ies for appearing in five episodes of the show, which were Experiments 301Cave Dwellers, 504 Secret Agent Super Dragon, 605 Colossus and the Headhunters, 620 Danger!! Death Ray and 903 The Pumaman.
Gallery
Ad blocker interference detected!
Wikia is a free-to-use site that makes money from advertising. We have a modified experience for viewers using ad blockers

Wikia is not accessible if you've made further modifications. Remove the custom ad blocker rule(s) and the page will load as expected.