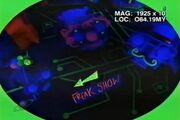 Nate the Nanite Clown
is one of
the Nanites
 that helps control the SOL, and appeared in host segments for
Gorgo
.
He is the primary attraction at Ned's Flea Circus and has a deep desire to be noticed even when it's not his turn to be. He meets a rather tragic end when Mike gives him the fee for entering his circus. He is voiced by Paul Chaplin.
Ad blocker interference detected!
Wikia is a free-to-use site that makes money from advertising. We have a modified experience for viewers using ad blockers

Wikia is not accessible if you've made further modifications. Remove the custom ad blocker rule(s) and the page will load as expected.