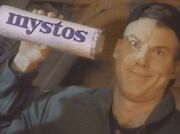 "Mystos" is a song from the episode, Teen-Age Crime Wave.
Lyrics
(music begins, and as Crow sings, Mike makes broad gestures reminiscent of the hero of the Mentos commercials)

Crow: (singing) 'Cause it's really so fun,
'Cause it's really so fun
When you have super fun
Eating tasty mints
You can challenge mores
You can bend silly rules,
You're rebelling in an unthreatening waaaaaay......
You're really blond and it's true,
People look up to you,
When you eat mints whenever the hell you want to,
Youth is better in every situation,
Youth is better, old is stupid,
Youth is better so (speeding up to fit the entire line in) eat-Mystos-and-live-a-super-long-fun-liiiiiffffeee!!!!

Mike: (grinning like an idiot) Mystos!!!!
Ad blocker interference detected!
Wikia is a free-to-use site that makes money from advertising. We have a modified experience for viewers using ad blockers

Wikia is not accessible if you've made further modifications. Remove the custom ad blocker rule(s) and the page will load as expected.