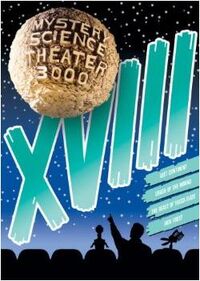 Mystery Science Theater 3000: Volume XVIII is a DVD box set released by Shout! Factory. It was released on March 16, 2010.
The set features two episodes hosted by Joel and two hosted by Mike.
The package consists of a carboard box/sleeve with four individual slim DVD cases, each with individual episode-specific artwork. Also in the package are four mini-posters that utilize the same artwork as the DVD cases.
Disc 1
Disc 2
Disc 3
Disc 4
Ad blocker interference detected!
Wikia is a free-to-use site that makes money from advertising. We have a modified experience for viewers using ad blockers

Wikia is not accessible if you've made further modifications. Remove the custom ad blocker rule(s) and the page will load as expected.