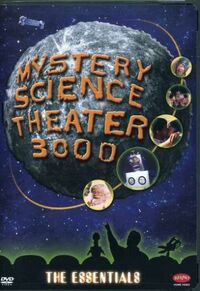 Mystery Science Theater 3000: The Essentials is a 2-DVD set released by Rhino Entertainment in March of 2004.
The set includes two Joel episodes, apparently selected by a popularity poll.
A limited offer from Rhino featured a 3-disc version if the set was purchased through a special web site.
The case features artwork similar to the art on the Volume 4 set, but with imagery from the two episodes included.
This set marks the second of three releases of the MST3K version of Manos: The Hands of Fate.
Contents
Disc 1
Disc 2
Disc 3
Ad blocker interference detected!
Wikia is a free-to-use site that makes money from advertising. We have a modified experience for viewers using ad blockers

Wikia is not accessible if you've made further modifications. Remove the custom ad blocker rule(s) and the page will load as expected.