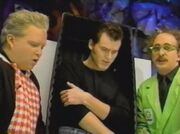 Steven Patrick Morrissey (born 22 May 1959), is an English pop singer and lyricist of the UK 80s band The Smiths.
He was "featured" as the invention exchange in Experiment #403 City Limits. His over-the-top singing caused both Dr. Forrester and TV's Frank to slam the lid of the case where he rested back on immediately.
Ad blocker interference detected!
Wikia is a free-to-use site that makes money from advertising. We have a modified experience for viewers using ad blockers

Wikia is not accessible if you've made further modifications. Remove the custom ad blocker rule(s) and the page will load as expected.