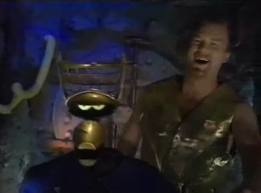 Mike Nelson
was the head Mad in the mirror universe at the time of
Last of the Wild Horses
. He wore a gold vest and had a goatee. While Tom and Gypsy were replaced with their counterparts from the Prime Universe, he was nearly assassinated by
Crow T. Robot
.
Behind the Scenes
The host segments in Last of the Wild Horses were a spoof of the mirror universe in Star Trek, especially Mirror Mirror. Mike's vest was a parody of the mirror Kirk's vest, and his beard was a parody of the mirror Spock's.


Ad blocker interference detected!
Wikia is a free-to-use site that makes money from advertising. We have a modified experience for viewers using ad blockers

Wikia is not accessible if you've made further modifications. Remove the custom ad blocker rule(s) and the page will load as expected.