Michael J. Nelson
Talk

1
757pages on
this wiki
Michael John Nelson (born October 11, 1964 in St. Charles, Illinois) was the head writer of the cult television series Mystery Science Theater 3000 for most of the show's 11-year run, and spent half of that time playing the on-air host, Mike Nelson. Series creator and former host Joel Hodgson reportedly chose Nelson to be his replacement because he thought Nelson was a natural leader, a gifted comedian as well as a gifted musician and also that Nelson simply looked good standing next to the show's puppets.
Other Works
Nelson is an American comedian and writer who lived in the Twin Cities area of Minnesota but has recently moved to San Diego.
Since the series ended, he has worked steadily as a writer, publishing several books (as of March 2006): Mike Nelson's Movie Megacheese, Mike Nelson's Mind Over Matters and Mike Nelson's Death Rat!, the last being his first novel. His other literary works include a series of pop culture humor books, Happy Kitty Bunny Pony, Goth-Icky, and Love Sick. He also wrote for the shortlived game show Let's Bowl, which gained a cult following of its own. He has provided humorous and informative commentary tracks for DVD releases of several films, including Reefer Madness, House on Haunted Hill, and Plan 9 From Outer Space. With his MST3K co-stars Kevin Murphy and Bill Corbett, he was briefly part of a comedy team called "The Film Crew" which has created comedy segments for NPR. Four DVDs were released until Jim Mallon demanded the series cease to a halt due to being far too similar to MST3k's formula.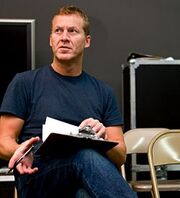 Nelson is a talented comedic actor who can portray both male and female characters, and is known for his goofy charm and classically Midwestern appearance (being tall, broad-shouldered and blond). He is married to fellow MST3K writer Bridget Jones, and the pair have two sons.
In 2006, Nelson was appointed Chief Content Producer for Legend Films. He will be responsible for building and leading the company's creative content, providing on-going commentaries and developing other premium web-based programming. "I'm very excited. Legend Films is such a great fit for me -- talented people who consistently put out a great product. Plus there are Flaming Hot Cheetos in the lunch room vending machine. That made it an easy choice to join the team," enthused Nelson.
One of the projects put together by Nelson and Legend Films was RiffTrax, a website offering the purchase of downloadable audio commentaries. The first commentary made available through the service was for Road House. According to a September 2006 podcast interview, Nelson feels Rifftrax may be the closest thing to a reunion of the Mystery Science Theater 3000 gang. 
In a 2006 podcast interview with SomethingAwful.com, Nelson was asked what he thought was the worst movie in general and Nelson replied that it was Star Wars- Episode I: The Phantom Menace due to finding the film to be a flat premise and not being a fan of the franchise or genre in general. Much of the RiffTrax crew have varied on their experiences riffing the movies as sometimes they end up actually enjoying them or loathed them but as long as it was a fun riffing experience, that's what counted to them. For instance, Mike commented recently that he actually enjoyed Captain America: The First Avenger (which was later parodied by RiffTrax) and had fun riffing Thor.
In Mike's 2002 book Mike Nelson's Mind Over Matters, which was published by Harper Entertainment, Mike stated during a recount of attending a 1995 awards ceremoney with wife Bridget that if he could meet two iconic people who he truly admired, that he would love to meet both comedian Jerry Seinfeld and actress Madeline Stowe.
Mike also frequently comments on his Twitter and FaceBook pages.
Appearances
Regular roles
Guest appearances
See also
Personal quotes
External links