Merlin Olsen (September 15, 1940 – March 11, 2010) was a professional football player and actor.
Olsen played professional football with the Los Angeles Rams from 1962–1976.
Even before ending his football career Olsen turned to acting. In 1975 he would take the role of Benson in Mitchell, and as a result would become well known when the Joe Don Baker film was lampooned on MST3K.
Olsen was also the commercial spokesman for the flower company FTD for a number of years.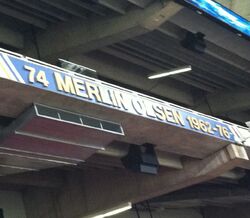 Ad blocker interference detected!
Wikia is a free-to-use site that makes money from advertising. We have a modified experience for viewers using ad blockers

Wikia is not accessible if you've made further modifications. Remove the custom ad blocker rule(s) and the page will load as expected.