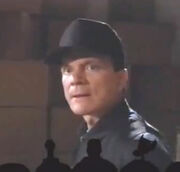 Mel Novak (born as "Mi'lan Mrdjenovich" on June 16, 1942 in Pittsburgh, Pennsylvania, USA) played SWAT team member Otis in Experiment 904 Future War. He used to be a professional model and baseball player for the Pittsburgh Pirates. His credits include: Game of Death (with Bruce Lee), An Eye for an Eye (with Christopher Lee and Chuck Norris) and Samurai Cop 2: Deadly Vengeance (with Robert Z'Dar and Joe Estevez).
Ad blocker interference detected!
Wikia is a free-to-use site that makes money from advertising. We have a modified experience for viewers using ad blockers

Wikia is not accessible if you've made further modifications. Remove the custom ad blocker rule(s) and the page will load as expected.