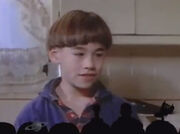 Matthew Sakimoto (born as "Matthew Hitoshi Sakimoto" on October 8, 1984 in Los Angeles, California, USA) played Max in Experiment 1004 Future War. He previously played Young Adam on the on-going "Power Rangers" series of shows and currently works as an editor for various reality shows and award specials.
Ad blocker interference detected!
Wikia is a free-to-use site that makes money from advertising. We have a modified experience for viewers using ad blockers

Wikia is not accessible if you've made further modifications. Remove the custom ad blocker rule(s) and the page will load as expected.