Mary Jo Pehl
Talk

0
682pages on
this wiki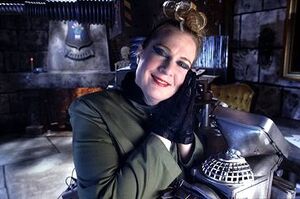 Mary Jo Pehl (pronounced Peel) portrayed the sinister Mrs. Pearl Forrester, the late Dr. Forrester's mother, on "Mystery Science Theater 3000," as well as serving as one of the show's writers. From Season 7 through the end of the show's run, Pearl was the evil force behind a wicked experiment forcing Mike and the 'bots to watch the cheesiest movies of all time while captive in space aboard the Satellite of Love.
Biography
After pursuing a career in nursing, Pehl realized that she had made a "major bad career choice" and began pursuing a career in comedy.
Growing up in a family of five siblings in Circle Pines, Minnesota, provided Pehl with plenty of comedy fodder. She performed standup all around the Midwest from 1987 through 1991. She also worked for the Norrell Temporary Agency, where she earned the title of Temp of the Month for March 1990. She has been featured on VH-1's "Stand-Up Spotlight" and A & E's "Comedy on the Road."
In February 1992, Pehl joined the MST3K writing team after meeting Mike Nelson and Paul Chaplin on the comedy circuit in Minneapolis. She was drawn to the series partly because of her perverse fascination with really bad movies and partly because of the "ineptitude of the people who make them." [with minor editing] She is the only cast member from the series to actually sing in the theme; other actors were lip-syncing to the singer.
Appearances
Regular roles
Guest appearances