The Mads is the term originally coined by Joel Robinson he and the other Satellite of Love crew members used to collectively describe their mad scientist captors. The Mads can be roughly divided into five sets (with a few extra additions due to circumstances) based around the central mads present at the time per season: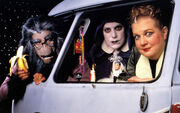 Ad blocker interference detected!
Wikia is a free-to-use site that makes money from advertising. We have a modified experience for viewers using ad blockers

Wikia is not accessible if you've made further modifications. Remove the custom ad blocker rule(s) and the page will load as expected.