Ad blocker interference detected!
Wikia is a free-to-use site that makes money from advertising. We have a modified experience for viewers using ad blockers

Wikia is not accessible if you've made further modifications. Remove the custom ad blocker rule(s) and the page will load as expected.
RiffTrax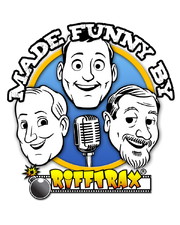 #
Ep.
Movie
Original release date
Guest Riffers
Rifftrax Poster
1
RT01
Plan 9 From Outer Space
January 1, 2006
None
Held up by many as the Worst Movie Ever Made (though the twelve people who saw Mariah Carey's Glitter may strenuously disagree.) Ed Wood's classic...
2
RT02
Night of the Living Dead
January 18, 2006
None
Imagine you are wandering through a lonely graveyard when a wild-eyed man in a cheap suit tackles you and when you escape, tries to eat your brother. Just a typical encounter with Nick Nolte? . . .
3
RT03
Road House
July 21, 2006
None
This is it – the best movie ever made about a world-famous bouncer and his epic struggle with the evil owner of the local J.C. Penney. Patrick Swayze is at his most shirtless . . .
4
RT04
The Fifth Element
August 1, 2006
None
Long before the exceedingly boxy, strange-looking car, there was another Element: The Fifth Element...
5
RT05
Star Trek V: The Final Frontier
August 18, 2006
Kevin Murphy*
The bittersweet sequel to Star Treks I, II, III and IV was indeed the "final frontier", one last voyage for our heroic Captain Kirk and the brave crew of the Enterprise – except for another one to follow . . .
6
RT06
Cocktail
August 29, 2006
None
A drunken Australian counsels a young Tom Cruise on life, love, and female undergarments. Tom and Nicole's wedding night? No, this is the thrilling plot of Cocktail . . .
7
RT07
xXx
September 6, 2006
None
Vin Diesel, the Jean-Claude Van Damme of our time, stars as Xander Cage, an underground extreme sports star who apparently lost all his hair in a tragic skydiving accident . . .
8
RT08
Crossroads
September 15, 2006
None
Among the finest Britney Spears movies ever made, Crossroads tells the story of a high school graduate who drives to L.A. Not very exciting on paper . . .
9
RT09
X-Men
September 22, 2006
Bill Corbett*
On the shadowy periphery of society lives a secret organization of mutants – despised, deformed and loathed, they live in fear of a nation that holds them in contempt. They are comic book fans.
10
RT10
Top Gun
September 29, 2006
Bill Corbett
Iceman, Maverick and Slider: while they make great names for members of a tracksuit wearing boy band, they make even better names for shirtless, pretty boy pilots . . .
11
RT11
Point Break
October 10, 2006
None
Not since Chicken Fried Steak met Country Gravy has there been such a dynamic pairing as Patrick "Forever Lulu" Swayze and Keanu "Permanent Record" Reeves ...
12
RT12
Halloween
October 19, 2006
Kevin Murphy
The most shocking Halloween-related thing ever -- with the possible exception of the joke about Mrs. Ghost not being able to get pregnant because Mr. Ghost had a hollow weenie . . .
13
RT13
The Matrix
October 25, 2006
Kevin Murphy
In Earth's dirty, dystopian future, one in which every person alive is kept in a dark, moist pod and fed misinformation (kind of like Manhattan) . . .
14
RT14
Star Wars: Episode I - The Phantom Menace
November 1, 2006
Kevin Murphy
Of all the many Binks in the world, who is the most skull-crushingly annoying? Is it the Binks Company, the Canadian insurance brokers? Is it the U.S. manufacturers of spray guns? . . .
15
RT15
The Grudge
November 10, 2006
Kevin Murphy
The scariest thing to come out of Japan since Pink Lady, The Grudge tell the story of a young woman who travels to Japan with her underwear-sniffing boyfriend . . .
16
RT16
Lord of the Rings: Fellowship of the Ring
November 21, 2006
Kevin Murphy
The greatest fantasy epic of all times is at last a RiffTrax! No, not Crossroads – we already did that. And not A Very Unlucky Leprechaun – which we are seriously mulling over. . .
17
RT17
The Island of Dr Moreau
December 1, 2006
Kevin Murphy
And the people cried out with one voice, "Maketh us a movie in which Marlon Brando can don a muumuu, false teeth, clown white make-up and a really gay bonnet . . .
18
RT18
Firewall
December 8, 2006
Kevin Murphy
Harrison Ford is a bank security manager who gets more than he bargained for when a thief breaks the little chain and steals the pen that belongs to the desk . . .
19
RT19
Nestor the Long Eared Donkey
December 19, 2006
None
You know Dasher, of course. And Dancer, no need to refresh your memory there. Prancer, you go way back. Vixen is as familiar to you as Comet, not to mention dear old Cupid . . .
20
RT20
Reign of Fire
December 21, 2006
Kevin Murphy
A post-apocalyptic thriller that substitutes dirt and grime for any inkling of logic and probability, Reign of Fire features shirtless one-upmanship at its finest. The cigar stub chomping Matthew McConaughey is finally chiseled into Mt. RiffTrax...
21
RT21
Daredevil
January 18, 2007
Kevin Murphy, Bill Corbett
Daredevil tells the story of lawyer Matt Murdock (Ben Affleck), who due to a childhood accident involving toxic chemicals has no fear. He is thus able to leap off of skyscrapers . . .
22
RT22
Battlefield Earth
January 28, 2007
Kevin Murphy, Bill Corbett
In the year 3000 man is an endangered species, enslaved, severely unshowered, beholden to a cruel alien race fond of dreadlocks and really impractical boots . . .
23
RT23
Troll 2
February 2, 2007
Rich "Lowtax" Kyanka*
"Be afraid...be twice as afraid!" So goes the tagline for Troll 2, the follow up, unsurprisingly, to Troll. A more fitting tagline might have been, "What the hell was that? Seriously, what was that?"
24
RT24
Star Trek VI: The Undiscovered Country
February 9, 2007
Kevin Murphy, Bill Corbett
"To boldly go where no man has gone before," and if you don't count the 79 television shows and 5 movies that came before it then Star Trek VI does exactly that . . .
25
RT25
Over the Top
February 16, 2007
Kevin Murphy, Bill Corbett
Never make the mistake of thinking that Over the Top is just an arm-wrestling picture. Oh, there's arm wrestling, all right – more arm wrestling than an 8th grade study hall. But there's also a truck. . .
26
RT26
Aeon Flux
February 23, 2007
Kevin Murphy
"Seeing it ... made me feel helpless, humiliated and sad." A celebrity apologizing for their latest paparazzi shots? No, those are the words of Aeon Flux creator Peter Chung regarding the big screen adaptation of the TV show he created. Peter, Peter, Peter...Why the long face? You have it so good!
27
RT27
The Wicker Man
March 2, 2007
Kevin Murphy
Horror has a new name – and that name is "wicker". Once used almost exclusively in the construction of baskets and attractive outdoor furniture . . .
28
RT28
Terminator 3: Rise of the Machines
March 16, 2007
Kevin Murphy
Robots sent from the future into the past to kill people who will one day become important to the war against machines are like cockroaches . . .
29
RT29
Lost Season 1 Pilot Episode
March 30, 2007
Kevin Murphy
The television phenomenon of our time (no, not "According to Jim") is now the RiffTrax phenomenon of this week! Yes, "Lost", the thrilling saga of a group of castaways – of varying degrees of hotness – and their struggle to survive without having to resort to wholesale drinking of their own urine.
30
RT30
Star Wars: Episode II - Attack of the Clones
April 6, 2007
Kevin Murphy, Chad Vader*
It's Binks-ian fun for the whole family as George Lucas empties the contents of his brain onto film one more time! This go around, the part of the annoying kid is explored more deeply by a new annoying kid . . .
31
RT31
Willy Wonka and the Chocolate Factory
April 13, 2007
Neil Patrick Harris*
Your favorite chicken-slaughtering candy-maker is now a RiffTrax! Yes, Willy Wonka (the older, shouting Willy Wonka, not the newer, thin, fey version), the chocolatier and inventor of a gobstopper that lasts a good deal longer. . .
32
RT32
Casino Royale
April 30, 2007
Kevin Murphy
A spine-tingling thrill ride that moves from the exotic poker tables of Montenegro, to the exotic hotel rooms of Montenegro, then back to the poker tables, then the rooms again, then a return visit to the poker table for . . .
33
RT33
Eragon
May 11, 2007
Kevin Murphy
Are you a fan of Star Wars but feel that there just weren't enough brain-stunningly idiotic names for your taste? Do you like the Lord of the Rings films but find they move too quickly and make too much sense?
34
RT34
Glitter
May 21, 2007
Kevin Murphy
If you're a fan of movies that feature screaming, megalomaniacal divas and their relationships to shirtless guys, you have so far been limited to Barbra Steisand's "A Star is Born". . .
35
RT35
Predator
June 1, 2007
None
Something lurks in the dense jungle. Something horrible and cruel, a creature from beyond our world. His name is Arnold Schwarzenegger. . .
36
RT36
Grey's Anatomy
June 11, 2007
Bridget Jones Nelson*
This is the hugely successful, boldly innovative show that dares to tell its story in the unlikeliest setting imaginable – a hospital!
37
RT37
Fantastic Four
June 22, 2007
Kevin Murphy
Most film adaptations of comic books skimp on the amount of fantastic-ness, offering at best one or perhaps two units of fantastic-osity. . .
38
RT38
Star Trek: Generations
July 2, 2007
Kevin Murphy
Star Trek: Generations – truly a loving gift from one generation to the next. Much like that 15-pound, 10 percent water-added Danish ham . . .
39
RT39
300
July 31, 2007
Kevin Murphy, Bill Corbett
A small band of brave men struggle against enormous odds, battling a superior force, and though ultimately they are defeated their sacrifice becomes a source of inspiration and hope that rings out like a clarion call through the pages of history. But enough about the Mighty Ducks.
40
RT40
The Bourne Identity
August 7, 2007
Kevin Murphy, Bill Corbett
Imagine waking up in an unfamiliar place, unable to recall where you live, what you're doing there, or even your own name. Now imagine for the first time in your life it wasn't a direct result of . . .
41
RT41
Independence Day
August 14, 2007
Kevin Murphy, Bill Corbett
In every single one of the 900 million aliens-come-to-earth movies that had come before it the aliens were malevolent, bent on man's destruction, but Independence Day changed all that. Yes, the alien's were once again malevolent, but this time Judd Hirsch was in the movie!
42
RT42
Heroes
September 4, 2007
None
Imagine, just imagine, if ordinary citizens suddenly began to discover that they have acquired extraordinary powers. Why, you would have X-Men. But imagine if instead of acquiring X-Men-like powers . . .
43
RT43
Star Wars: Episode III - Revenge of the Sith
September 25, 2007
Kevin Murphy, Bill Corbett
The Sith is back, and this time he has come to make ponderous speeches to the gathered Senate and kick tail - and he's all out of ponderous speeches to the gathered Senate! Ian McDiarmid steals the show . . .
44
RT44
Raiders of the Lost Ark
October 2, 2007
Kevin Murphy, Bill Corbett
The ark is lost! Who will raid it?! Clearly, there is only one man for the job: but since Ben Gazzara is unavailable, Indiana Jones will go in his stead and accomplish the needed raiding . . .
45
RT45
Spider-Man
October 9, 2007
Kevin Murphy, Bill Corbett
When Peter Parker is bitten by one of Columbia University's many genetically engineered "super spiders" (now we know what they do with their 6 billion dollar endowment) instead of doing the sensible thing and dying, he transmogrifies into an arachnid . . .
46
RT46
Next
October 16, 2007
Bridget Jones Nelson
Next, the thrilling story of a down-on-his luck magician (Nicholas Cage) who hitches a ride to Flagstaff! Not only that, he walks down into the Grand Canyon and shows a kid a rock! And can your heart stand the excitement when he gives a car to Peter Falk!?
47
RT47
Missile to the Moon
October 30, 2007
Fred Willard*
The title says it all: a missile goes to the moon! Only there are people in the missile so it's not really a missile but should more precisely be referred to as a "rocket"! Still, it goes to the moon . . .
48
RT48
Transformers
November 20, 2007
Kevin Murphy, Bill Corbett
The toys you got free in your happy meal explode across the screen as the loosening of FCC regulations on marketing directly to children is now a major motion picture! And the now grown-up targets of that marketing once again obeyed their overlords...
49
RT49
Harry Potter and the Sorcerers Stone
November 27, 2007
Kevin Murphy, Bill Corbett
The most profitable bespectacled Potter since Henry F. and Sherman T. combined, tales of Harry's indoctrination into Satan's dark and unholy arts have delighted dozens of children the world over. And this, the first movie of the series, ably helmed by Chris Columbus . . .
50
RT50
Star Wars Holiday Special
December 10, 2007
Kevin Murphy, Bill Corbett
Have a Happy Life Day! And nothing kicks off a memorable Life Day quite so much as watching the legendary Star Wars Holiday Special receive a fully deserved Rifftrax treatment! Yes, all your favorite Wookies are here: there's Chewbacca, Malla, Itchy, Lumpy and Art Carney . . .
51
RT51
Fantastic Four: Rise of the Silver Surfer
December 18, 2007
Kevin Murphy, Bill Corbett
The Fantastic Four are back! Or the Fantastic Four is back! Depending upon whether one is referring to the title of the film, the four individuals who are fantastic and number four, or the group of four fantastic people who use that title! The point is, they're back! And this time, unlike the first, there's a surfer made out of silver and he rises! It's fantastic!
52
RT52
Plan 9 From Outer Space - Three Riffers Edition
January 22, 2008
Kevin Murphy, Bill Corbett
There have been many, many Plan 9s all throughout history, some of them more successful than others, all of them terrestrial - it took a man with the vision of Ed Wood to show us the very real horrors of a Plan 9 from Outer Space!
53
RT53
Batman and Robin
January 29, 2008
Kevin Murphy, Bill Corbett
Crossroads. Battlefield Earth. A Visit to Santa. As if the RiffTrax audience hasn't suffered enough, we put to them the extraordinarily challenge of writing us a script for what is universally considered to be the source of all evil and suffering in the world . . .
54
RT54
Jurassic Park
February 5, 2008
"Weird Al" Yankovic*
Every quarter century or so a project comes along that so perfectly unites artist and medium that one can only stand in wonder and proclaim, "Wow, Sandra, when was the last time something this magical came along - quarter century or so, wasn't it?" So it was with Michelangelo and marble . . .
55
RT55
The Matrix Reloaded
February 19, 2008
Kevin Murphy, Bill Corbett
Like a previously worn diaper, The Matrix has been Reloaded! All your favorite characters are back wearing all your favorite unlaundered fetish costumes! See Trinity leap - A LOT! See Morpheus fold his hands and talk - a lot A LOT! Thrill as the Oracle and Neo have . . .
56
RT56
Beowulf
March 18, 2008
Kevin Murphy, Bill Corbett
For years we at RiffTrax have lived under the mistaken belief that we are Beowulf. So we were shocked when a cartoon version of Ray Winstone squeezed into a tiny pair of leather battle panties (LBPs) and set us straight in no uncertain terms.
57
RT57
Spider-Man 3
April 4, 2008
James Lileks
The biggest Spiderman movie of 2007 is now the biggest Spiderman-based Rifftrax of 2008*! All your favorite characters return (Hoffman, Mr. Ditkovich, Ursula) and new favorites join in the fun (Crane Operator, Emergency Room Doctor, Kid in Central Park)!
58
RT58
Cloverfield
April 22, 2008
Kevin Murphy, Bill Corbett
"What if a monster attacked a city?" This is the shockingly novel concept behind the viral marketing triumph of the year! Filled with "fresh"* performances and "authentic"** cinematography, Cloverfield masterfully takes a page from The Blair Witch Project...
59
RT59
I Am Legend
April 29, 2008
Kevin Murphy, Bill Corbett
Let's not get into the contentious issue of exactly who is Legend. R&B singer John Legend thinks he is Legend; the Tom Cruise movie Legend think it is Legend; "I Am" thinks it's Legend; and Matthew McConaughey is as certain that he is Legend as he is that his butt looks awesome in bike shorts. . .
60
RT60
Lord of the Rings: The Two Towers
May 23, 2008
Kevin Murphy, Bill Corbett
The epic story of tiny men doing very important things continues.* In this multi-hour installment the two very different towers come into sharp focus.
61
RT61
The Sixth Sense
June 25, 2008
Kevin Murphy, Bill Corbett
M. Night Shalalalalalalalalalala-tee-da burst onto the scene with the biggest suspense thriller of 1999 (well, right behind a relatively short list of films that includes Analyze This, Wild Wild West and Varsity Blues.)
62
RT62
Harry Potter and the Chamber of Secrets
August 8, 2008
Kevin Murphy, Bill Corbett
Harry Potter is back with the second installment in the franchise that is worth more than the Tolkien, Roddenberry and Herge estates combined!
63
RT63
Memento
August 12, 2008
Kevin Murphy, Bill Corbett
For most of us, the experience of waking up in a strange motel room, alone and disoriented, means that you were the victim of Chinese Organ Thieves. Inconvenient, sure, but kidneys are replaceable.* And how often does it really happen?** For Leonard Shelby, however, this scenario was just another part of his daily routine.
64
RT64
Ocean's Eleven
August 26, 2008
Richard Cheese*
Take Ocean's Thirteen, pare down its cast to a trim Ocean's Twelve, then take away one more and you've got Ocean's Eleven, the swingingest, hippest, don't-they-look-like-they're-having-fun movie since Cannonball Run II!
65
RT65
Pirates of the Caribbean: Curse of the Black Pearl
September 9, 2008
Kevin Murphy, Bill Corbett
The most adorable pirates you've ever seen take to the high seas to do battle with an army of walking skeletons to see who is thinner. With a team consisting of Keira Knightley, Johnny Depp and Orlando Bloom they can't possibly lose!
66
RT66
Iron Man
October 14, 2008
Kevin Murphy, Bill Corbett
67
RT67
The Incredible Hulk: The Final Round
October 14, 2008
Kevin Murphy, Bill Corbett
66
RT67
The Dark Knight
December 9, 2008
Kevin Murphy, Bill Corbett
[[]]
66
RT68
Harry Potter and the Prisoner of Azkaban
December 16, 2008
Kevin Murphy, Bill Corbett
[[ ]]
66
RT69
Star Wars- Episode IV: A New Hope
December 30, 2008
Kevin Murphy, Bill Corbett
[[ ]]
An asterisk (*) denotes the first appearance of a guest riffer.
Rifftrax Presents
#
Ep.
Movie
Original Airdate
Riffers
Screenshot
1
RP01
World Enough and Time
May 8, 2008
Bill Corbett, Kevin Murphy
screenshot needed
insert synonpis here.
2
RP02
Dark Water
May 8, 2008
M. J. Elliot
screenshot needed
insert synonpis here.
3
RP03
Saw
May 13, 2008
Bill Corbett, Kevin Murphy
screenshot needed
insert synonpis here.
4
RP04
House of Wax
May 28, 2008
M. J. Elliot
screenshot needed
insert synonpis here.
5
RP05
To Serve All Of My Days
May 28, 2008
Bill Corbett, Kevin Murphy
screenshot needed
insert synonpis here.
6
RP06
The X-Files: Fight The Future
June 3,, 2008
Bill Corbett, Mary Jo Pehl and special guest Kevin Murphy
screenshot needed
insert synonpis here.
7
RP07
Alien
June 10, 2008
Bill Corbett, Kevin Murphy
screenshot needed
insert synopsis here.
8
RP08
Spider-Man 2
September 5, 2008
Bill Corbett, Kevin Murphy, Josh Fruhlinger (The Comics Curmudgeon)
screenshot needed
insert synopsis here.
9
RP08
The Day After Tomorrow
September 16, 2008
Bill Corbett, Kevin Murphy
screenshot needed
insert synopsis here.
10
RP08
Dirty Dancing
September 23, 2008
Cole Stratton, Janet Varney
screenshot needed
insert synopsis here.