Ad blocker interference detected!
Wikia is a free-to-use site that makes money from advertising. We have a modified experience for viewers using ad blockers

Wikia is not accessible if you've made further modifications. Remove the custom ad blocker rule(s) and the page will load as expected.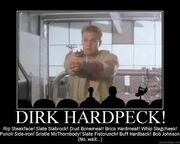 Dave Ryder is a spaceship pilot in the Season 8 movie Space Mutiny, played by Reb Brown. Mike and The Bots ridicule the character largely for his weightlifter build and effeminate screaming.
Contents: Top - 0–9 A B C D E F G H I J K L M N O P Q R S T U V W X Y Z
B
Bob Johnson (No, wait...)
C
D
F
G
H
L
P
R
S
T
W
See also